DARUL ULOOM INSTITUTE Class Schedule
Alhikmat Miskeen & Sadaqah Services
Al-Hamdulillaah on Wed. Sept. 11th, 2019, the Miami Learning Experience held a Peace Pole Ceremony with teachers, students and politicians. Blessings and greetings were given by Rabbi Abraham, Rev. Warren and Shaikh Shafayat. The event was coordinated by Kevin Grace, the Executive Director.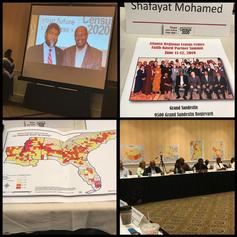 Alhamdulillaah USA CENSUS SUMMIT/JUNE 11- 12th 2019 - Shaikh Shafayat has been appointed to represent the Muslim Community of the State of Florida at the USA CENSUS 2020 -SEVEN STATES / REGIONAL FAITH BASED LEADERS SUMMIT at the Grand Sandestin Resort Destin FLORIDA. MaaShaa Allaah
Alhamdulillaah Malaysia April 2018/ Shaikh Shafayat Lecture on Dawah and Interfaith at the IDT Center / Meetings and Discussions with Professors and students at the International Islamic University and Darul Huda Boys School plus Tahfiz Lil Aytam for Girls etc Maa Shaa Allaah
Some pages on our site are presently Under construction.
We apologize for any inconvenience.
Please contact us for any questions or details.


Phone :

1-800-804-0267 / 954-986-0158
Email :

[email protected]


Inshaa Allaah, Ameen , Maashaa Allaah
"Alhamdulillaah Allaah has blessed ALHIKMAT DAWAH SERVICES to be the first in the USA to design a "COVID-19 SAJDAH PERSONAL FACE MAT" for FREE DISTRIBUTION to Masaajid WORLDWIDE. If you would like COVID-19 SAJDAH PERSONAL FACE MATS for your Masjid - please feel free to contact ALHIKMAT OFFICE at 1-800-804-0267 / [email protected] InShaa Allaah MaaShaa Allaah
Al-Hikmat TV Online 24/7 ( Click Play Below )
Darul Uloom Khatam Quran with Over 1000+ People Alhumdililaah
ALHIKMAT 2019 INTERFAITH EID FEAST 2019
THE NEW
AL-HIKMAT DA'WAH CENTER

with
DAWAH / MEDIA / RECREATION CENTER PLUS INTERFAITH AND MULITPURPOSE HALL
NEXT DOOR TO DARUL ULOOM INSTITUTE PEMBROKE PINES FLORIDA USA.
INSHAA ALLAAH AAMEEN MAASHAA ALLAAH
InterFaith Events (Click Videos To See Video Full Screen)
Sacred Journey Interfaith Seminary visit to Al-Hikmat Headquarters and Interfaith center.
Rabbi Barry Silver Song For Shaikh Shafayat
MidPoint | Shaikh Shafayat Mohamed discusses the cultural and emotional impact of the ISIS threat on American shopping malls
MidPoint | Shaikh Shafayat Mohamed discusses the challenges facing peaceful Muslim communities
AL-HIKMAT SERVICES, INC.
P.O. Box 816277 Hollywood Florida USA 33081
Tel: 1-800-804-0267 • 954-986-0158
Web: www.alhikmat.com • E-mail: [email protected]
AL-HIKMAT TV • ALHIKMATLIVE.COM

Inshaa Allaah • Ameen • Maashaa Allaah